The kids piled on my lap once they saw that I had a camera. More than an everyday camera, it was digital and possessed the unique ability to display the immediate results of what I was attempting to capture around me. I showed them the last picture I had taken, and they squealed. It was of one of the nine children swarming around me – a handsome, almond-eyed boy facing the camera with a simple, and distinctively sorrowful, expression. He was holding his hand in a gesture that crosses all boundaries of language, politics, geography, and religion: "Peace."
Mrs. Al-Iwiwi and her husband and nine children live in the center of the Old City in Hebron, and if there is anything they do not experience in abundance, it is peace. What they do have in abundance is violence and harassment – at the hands of the ultra-radical Jewish settlers who have infiltrated this neighborhood as well as the Israeli forces here to protect them.
Mrs. Al-Iwiwi tells us about life here. She has nine beautiful children around her, but that does not assuage the loss of a tenth child. The city was under curfew when Mrs. Al-Iwiwi was ready to give birth, so she could not leave the house to get to the hospital. The ambulance could not reach her either, and her baby was born dead. Just 17 days later, the settlers who live no more than an arms-length away tried to burn down her house. The family has no phone so they shouted out the windows to neighbors for help, and as they ran to the stairs, they passed out from the smoke. On an average day life is simpler, but still Mrs. Al-Iwiwi must insist that her children stay indoors, because the settlers next door have been known to entertain themselves by throwing stones or even shooting at Palestinian children.
Mrs. Al-Iwiwi's story is unique, but not just for the degree of violence and harassment she and her family experience. It is also unique because hers is one of the few Palestinian families left in the old city. Most others have been pushed out – either by force, by home demolition, by poverty, or by pure exhaustion. Mrs. Al-Iwiwi will not leave. She says staying in their home, on their land, is their form of resistance.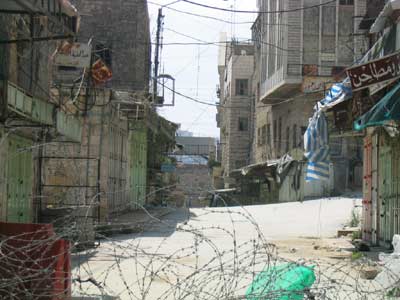 A Hebron street under curfew is desolate.
The largest city in the West Bank after Jerusalem, Hebron is the home to 140,000 residents. Of those, just 450 are Jewish settlers, who are guarded by some 2,000 Israeli soldiers (though they themselves are often already armed to the teeth). In all of the West Bank, settlers number about 200,000 – with another 200,000 in East Jerusalem and 6,000 in Gaza – but there is something unique about the Hebron settlers: Unlike elsewhere, settlers here have positioned themselves in the heart of this Palestinian urban area.
The first Jewish settlers came to Hebron in 1968, shortly after Israeli occupation of the West Bank. As the location of the tomb of Abraham, Hebron was seen by Jewish settlers as a city allocated to them by some kind of divine real estate decree, and they were inspired to start settling when a radical Zionist posted an advertisement in a newspaper inviting "Families or singles to resettle [the] ancient city of Hebron." At first they settled at the edge of Hebron, and in 1971 this became Kiryat Arba, which is today the home of about 6,000 settlers. Slowly, settlers started to inhabit the Old City, where today they are the source of the worst tensions in perhaps all of the West Bank. The result of Jewish settlement here has been not just tensions but also displacement of Palestinian residents, along with continual, major disruptions to daily life in the form of shop, school, and hospital closures due to strangulating curfews.
Once bustling in the manner of the lively souqs of Cairo, today the Old City is nearly deserted. Almost every shop is shuttered. Yet a few survive, and besides being notable for sporting signs pockmarked with bullet holes, they have few customers. One formerly wealthy restaurant owner points out his establishment to us, now completely stripped of its stove, tables, and chairs. All that remains of his business is a small portable griddle situated at the front door, which he fires up only occasionally for the rare hungry customer who has some spare change to spend.
A butcher recounted his story with a flair for the humorous, making light of his suffering. (We are reminded that laughter is sometimes the only way to face a life so difficult.) He told us he is the most popular man in town. His friends nearby nodded in agreement. Why? Because when a curfew was imposed, he could not reach his shop to sell meat. When it was lifted for a few hours, he would hustle to the shop, chop up the meat, and give it away to his neighbors before curfew was exacted again. This happened over and over, and the butcher's popularity soared. But what was a boon for his friends spelled ruin for him, and he could not go on. Today, you will find the butcher sitting, like most of the out-of-work shop owners, at the entrance of his shop, passing time near his once-thriving business place. The store is vacant, except for the huge metal meat hooks that hang imposingly above the window. Unadorned, their sharp ends symbolize the starkness of what the Israeli curfew policy has left behind for these Palestinians. We laughed at the story to lighten the moment and to participate in the Palestinian bid to find sweetness in the sad. But the humor of the moment vanished when I later learned that the butcher has leukemia, no access to medical treatment, and a large family to support.
Tired from trudging around in the heat – not to mention that a small ache in my heart had formed during the conversations with these Hebron residents – I was ready to retire to the village of Sa'er, where we would be spending the night. Even that would prove to be not just difficult but also representative of the traumatic effects of the presence of illegal Jewish settlers on Palestinian territory. First we got in a taxi. It left the paved streets of busy, downtown Hebron and onto a bumpy, rocky dirt road. We held on to our seats as we jostled up and down. Then we got out and walked down the same uneven, dusty road for a quarter mile. Here we got another taxi. Then out again and another 10 minutes' walk of more irregular road. Now we reached our hosts' car, and from there drove to his home. For us, the trip was inconvenient and moderately irritating. But for the elderly men and women on the same path, it was near impossible. So why did we have to take this complicated route, when our host lived just two kilometers from Hebron? Because the fine, new paved roads of Hebron are not allowed to Palestinians. Only Jewish settlers can drive down these roads.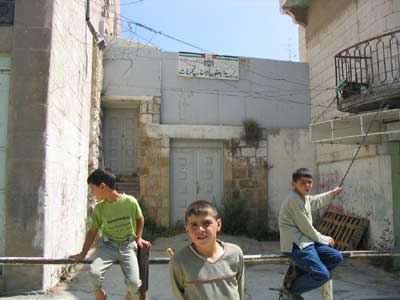 Hebron boys loiter on an empty street in front of a school that has been closed.
That is not the only problem that an apartheid road system causes. The next day when we found ourselves sitting in the Hebron Governate office, I could not stay focused on the instructive briefing we were receiving; my eyes kept wandering to a figure sitting near us. He was here for help, because an Israeli military order had recently been issued to demolish his home. It is located between two settlements, and plans have been laid to connect them with a road. Of course, the officially stated reason, common to all Israeli act of aggression, was "security." I didn't talk to the man, but I'll never forget the look in his eyes. They were big and glassy and trenched in bags that belied sleepless nights. He was slouched and quiet. He looked beaten.
As we left the desolate streets of Hebron, I silently mourned so much loss – the loss of income for families dependent on shopkeeper's revenues, the loss of a vibrant economy, the loss of stability and homes, and above all the loss of childhood. The children here are a generation growing up in despair. When we asked them about their lives, they told us about their schools that have been closed, their friends who have been killed by Israeli soldiers, or they did not say anything at all. When we asked children here what they want to be when they grow up, they could not answer. "What is your dream?" we asked them. "We don't have dreams," they responded.
Leila Saad is a graduate student at Harvard University at the John F. Kennedy School of Government.