As part of the project "Enhancing Gender Equality and promote Women Participation in local Governance in West Bank including east Jerusalem and Gaza Strip" MIFTAH, in partnership with the GIZ-implemented program "Program for Empowering Women in Decision-Making", which is funded by BMZ, recently capped off a series of three days Weekend Solutions workshops . A large group of 110 influential leaders at the social and political levels participated. The group was recently formed by MIFTAH to advocate for gender issues in the districts of Jerusalem, Nablus, Hebron in the West Bank, and Khan Younis and Rafah in the Gaza Strip. The aim of the initiative was to lead a social movement for promoting women and youths' participation in public life in a way that contributes to the development of gender-related strategic development approaches in local communities. This is through developing initiatives that shed light on the importance of the political and social participation of marginalized sectors of women and youth to guarantee social justice.
MIFTAH project manager Najwa Yaghi said these Weekend Solutions workshops were the second stage in a number of interventions that brought together influential leaders and youth social activists to identify the most outstanding obstacles that prevent social and political participation of women and girls, and ways to overcome these obstacles through a group local initiatives that focus on the importance of integrating women and youth into public life. These are the most important interventions necessary for local development and for promoting the principles of democracy and good governance in addition to curbing social alignments manifested in discriminatory practices, most of which are directed towards women and youths.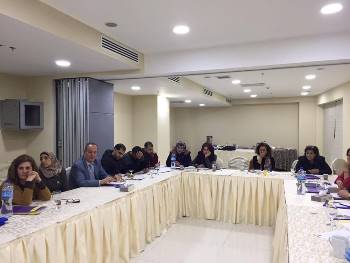 MIFTAH's Gaza coordinator, Shadia Al Ghoul said a series of interactive workshops were held with various community figures and sectors such as academics, members of local committees, representatives of factions, heads of civil society organizations, socially-active youths and farmers from the Khan Younis and Rafah districts. She maintained that the workshops addressed the different unifying ideas and ideologies through the establishment and consolidation of the concepts of gender, social change and LGU specializations. Furthermore, Al Ghoul said local realities and women's participation in LGUs was examined and diagnosed through pinpointing the key impediments in order to produce and work ono social initiatives in the next phase. She said the participants were very involved and interactive during the meetings and showed an enthusiasm to work with the aim of changing social realities and integrating women and youths into the circle of social development.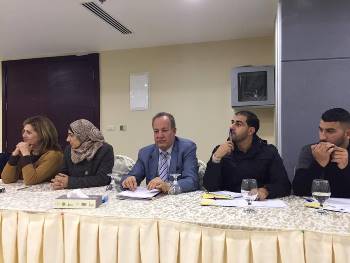 Facilitator Feedback
Facilitator for the Jerusalem group, Oday Abu Karsh said the meetings were aimed at developing a participatory vision among the socially-active groups, decision-makers and politicians at the workshop in order to combat gender-based exclusion and identify the gaps in structural frameworks that prevent women from active participation. He also said they were aimed at determining social obstacles and stereotypes that hinder women and youths participation in the political and public spheres.
Furthermore, the workshop identified the approaches for formulating a strategy capable of providing a supportive environment for women and youth participation in regulatory frameworks, namely government institutions. It also identified several initiatives that would be implemented in 2017 to support efforts related to combatting geographic and gender-based discrimination from which the Jerusalem district suffers in particular.
Facilitator and trainer for the Hebron group Ruham Nimri, said the weekend solution workshops were important in that they offered an opportunity for participants to plan and work towards creating initiatives for their communities compatible with social needs regarding women's and youths' political participation. A total of 17 male and female participants attended from the Hebron districts of Saeer, Dura and Bani Naim, all of whom are social activists. The participants included youths, head of local councils and women activists.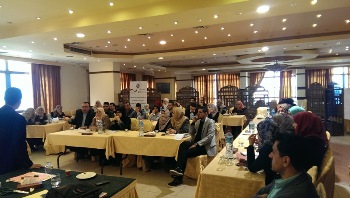 Nimri added, "The group interacted very well with the training. Both young men and women actively participated." He said the group produced three initiatives that include youth and women in specific regions in the Hebron area. The activities in these initiatives, he explained, highlight the importance of women and youth participation in political life including educational meetings and media activities.
Meanwhile, trainer Hanan Jayousi said her experience with MIFTAH had been excellent given that it targets youths, who comprise approximately 30% of the Palestinian society. She said these were sectors that were vital and important but not always considered or targeted by institutions. Neither do they give ample attention to their role as agents of change. "Hence, the fact that MIFTAH targets these sectors and focuses on such activities is a huge achievement," Jayousi said.
She also had positive feedback concerning weekend solution workshops "There was practical and pragmatic management of the workshops which allowed the participants to express their own experiences and plans. Hence, they were able to develop tangible and practical visions and apply what was proposed in the discussions, which was wonderful."