At the end of a dialogue session held by MIFTAH on February 12 with representatives of factions, PLO departments, student council unions and student bodies in Palestinian universities, participants stressed on the need to expedite a meeting between GUPS [General Union of Palestinian Students] preparatory committee and student council representatives inside the homeland and abroad and the various student bodies, in order to discuss the latest developments in efforts to set a date for the GUPS General Conference. The meeting would also include a presentation of draft amendments to the Union's constitution and an agreement on the necessary preparations for a political and action program to present to the PLO Executive Committee for approval and ratification.
Dr. Bakr Abu Bakr opened the meeting by speaking about the organizational structure of GUPS, describing its constitution as "giving broad participatory space to student bloc representatives" through allowing access to its regulation materials, thus achieving dynamic and democratic interaction. This, he said, creates a participatory atmosphere for the student movement and promotes its role. It also expands the circle of factional representation in supporting national efforts to represent GUPS.
Nicola Qawwas from Birzeit University and member of the Palestinian Political and Social Active Youth Network commented on the meeting by saying: "The meeting was constructive; many subjects were broached, which we hope will be translated into practical and productive steps." He maintained that the most important subject discussed was the call to establish a committee with the task of preparing for the GUPS conference. "We must support this effort through supporting the proposed preparatory meeting so that we can arrive at solutions to some of the issues over which there were reservations," Qawwas said, citing objections to the formation of the preparatory committee itself. He said this could be resolved through dialogue with parties from the PLO or through the President so that the issue is final.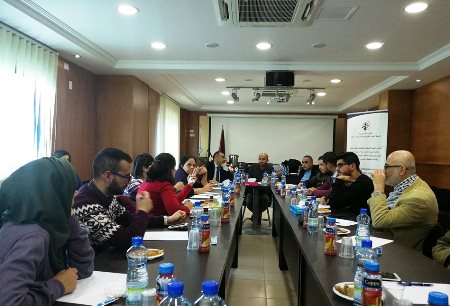 Head of the Arab-American University in Jenin, Mohammed Maali said: "I expect that after this meeting, we are going to take actual steps, especially regarding setting a date for the GUPS conference." He warned however, that this must begin now by forming a conciliatory foundation that everyone agrees to, within a clear vision that determines the mechanisms for holding elections capable of reflecting true representation of the various university student bodies.
In light of the slow pace of setting up the preparatory meeting as a result of the reservations of several parties, especially student union councils, Ratibeh Natsheh of Fida Party stressed that this could be achieved through benefiting from the law and the constitution as a means of pressure and influence and through true representation in GUPS by changing a number of members represented in the Union's executive board and the board of directors.
Furthermore, project coordinator Hassan Mahareeq confirmed that MIFTAH would continue to provide spaces for dialogue to support national efforts to rejuvenate GUPS as a platform for youth within the PLO.