Ramallah – MIFTAH and the Business Women Forum-Palestine, inaugurated their Ramadan Bazaar under the slogan, "Palestinian Women Bazaar for Ramadan". The bazaar was held under the auspices of Ramallah and Al Bireh Governor Dr. Leila Ghannam and supported by the Arab Fund for Economic and Social Development as part of its project for supporting Palestinian women in marginalized areas.
The exhibition, which was held at the Palestine Tower in Ramallah over two days (April 29 -30) included products, handicrafts, accessories, sweets, handmade clothing, soaps, ceramics, paintings, decorations, souvenirs, gifts, food and juices from 60 projects across the West Bank.
Dr. Ghannam expressed her pride in local Palestinian products and their ability to compete with imported products, adding that Palestinian women were capable of entering into the business world and building their own capacities with the support of the Business Women Forum, saying they were no longer amateurs but businesswomen competing at different levels.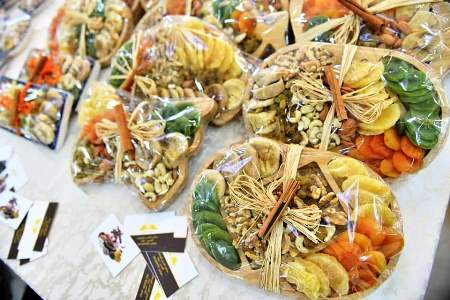 At the end of her speech, Ghannam thanked the Business Women Forum and MIFTAH for their efforts in making this bazaar a success and promoting Palestinian products.
Nour Odeh, Vice President of MIFTAH's Board of Directors, pointed in her opening speech to the importance of the achieved impact in terms of securing economic funding for Palestinian women and girls, especially those in marginalized areas, namely in the Jerusalem district. Odeh said MIFTAH has been implementing its project of developing local communities in marginalized areas for the past 11 years with support from the Arab Fund, maintaining that they were able to impact over 300 Palestinian women through small income-generating projects and change their realities through empowering them and improving their socio-economic status. She pointed to the achievements of the targeted women and their successes in creating strong role models for women breadwinners in marginalized areas who suffer from poverty, isolation and ongoing Israeli violations such as land confiscation, house demolitions, settlement expansion, arrests, harassment and repeated closures. Odeh also indicated to MIFTAH's strategy in communicating with and supporting the women to promote their active and pioneer roles and to elevate the level of their participation within the family and society. She concluded by thanking the Arab Fund for their continuous support and to the Business Women Forum for partnering with MIFTAH in holding this bazaar. She also thanked MIFTAH's team and all the women involved in the bazaar.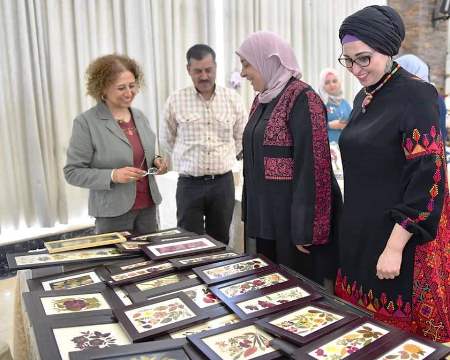 On her part, President of the Business Women Forum's Board of Directors, Samira Huleilah, congratulated the Palestinian people on the occasion of Easter and the start of Ramadan and also saluted workers on Labor Day. In her speech, she confirmed that since its establishment in 2006, the Forum has aimed to develop a spirit and culture of business among women and to encourage them to start up and develop women's initiatives in the business world. She continued that such bazaars encourage women to develop their enterprises and give them the opportunity to introduce new products to Palestinian markets, especially since this bazaar coincides with several important Palestinian occasions and holidays. Huleila also reaffirmed the importance of cooperation between institutions to offer services that encourage income-generating projects for women and which preserve Palestinian identity and cultural heritage. She commended the important partnership with MIFTAH as well, which she said fell in line with the Forum's strategy and methodology.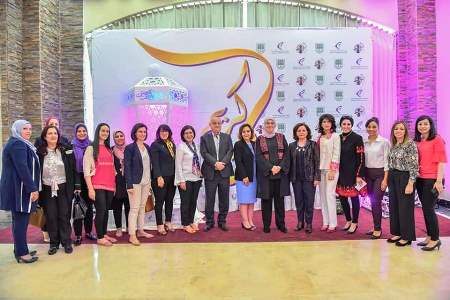 Furthermore, representative of the Arab Fund in Palestine, Najad Ghannam also commended the initiative, which he said comes at a time when the Palestinian labor market suffers from high unemployment rates, especially among women. He said the Arab Fund empowers women economically and socially through designing several programs and interventions that help women to provide and generate sustainable income. "Today we are talking about 65 successful women's initiatives. That is, 65 success stories in the midst of very difficult circumstances for manufacturers and consumers," he said. "I clearly remember the last bazaar MIFTAH held and compare it to the one today and I can see there have been huge progress, development and very high spirits. God willing, we will always be brought together by this strategic relationship."
Ghada Mansour, participant and owner of an embroidery and accessories project from the village of Beit Ijza northwest of Jerusalem, said she was very happy to be a part of the event. "The bazaar is an opportunity to showcase women's capabilities and to network with communities and institutions. It is also a huge opportunity to market our products and prove that women are more than capable of being part of the market." Likewise, Rifat Zeidan, 55, from the town of Bir Nabala northwest of Jerusalem, spoke about the important prospects this bazaar has given her and the other participants, especially in marketing their products, which include soaps made of olive and other oils. Zeidan runs the project with several other women from Bir Nabala.