Ramallah -- Five women from the village of Beit Ijza northwest of Jerusalem aspired for a better future and were willing to work for it. Towards this goal, they became part of a project in the hopes that it would set them up to face the demands of everyday life and would empower them socially, mentally and economically.
This was presented to them by MIFTAH through its project "Small Income Generating Projects for Women in Rural Areas", funded by the Arab Fund for Economic and Social Development. The women's "accessories and embroideries" project included training and funding for equipment and raw materials.
Three of the five women are housewives who support their households. The other two are teachers at the village school . One of the project beneficiaries, Ghada Mansour said the women's choice of embroideries and accessories was successful, adding that MIFTAH offered them the sufficient training and funding for its success. At present, she said, the women were busy preparing for a bazaar organized by MIFTAH on April 29 and 30, entitled "Palestinian Women Bazaar for Ramadan" which will include products by women from MIFTAH projects.
Mansour continued, "We are very busy getting ready for this exhibit; all of our products will be displayed. We hope this bazaar will be a good beginning for us to start marketing our products and give us a boost for the future so we can sustain our project and expand it into cities across Palestine and then abroad." She explains that the women set up a Facebook page entitled, "Accessories and embroideries of the modern woman" on which they displayed some of their work. Mansour says the women also posted on their personal Facebook pages so they could reach as many people and official and popular organizations as possible . "We networked with several women in the business and with local institutions as well, " she said.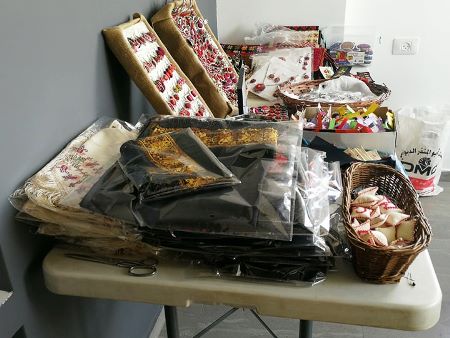 Mansour, along with two of her colleagues, Fadia Diwan (a mother of four) and Ghadeer Abu Kafiyeh (a mother of six), agree that the project had positive and significant psychological ,social and economic impacts, which will most likely increase once their marketing circles expand.
In terms of the psycho-social impacts, three of the beneficiaries said it felt good that they were marketing their own products and were capable of working and giving back to the community. This they said, was after years when they had no assertive role through which they could serve their communities and help their families at the same time. Today, their objective is to further define their project and take it to more successful heights.
Fadiya Diwan, another beneficiary, said the project was a 'quantum leap in our lives; through it, we were able to move out of our limited circle to a broader one, develop our skills and learn more about other sectors of our society. We hope MIFTAH's bazaar will be a springboard for marketing our projects so we can become economically viable, bring in a good income and turn a profit.
This optimistic outlook was mirrored by a third beneficiary, Ghadeer Abu Kafiyeh, who said she hoped the project would contribute to increasing their incomes in the future. "I hope it develops more and more so we can achieve the success we aspire for."