Ramallah – On December 3, MIFTAH organized an exchange visit for a group of women from the Jenin-area village of Maythaloun with members of the Beit Dukko Association. The Jenin women recently received a MIFTAH grant to start new or develop existing projects, while the women from Beit Dukko previously received grants from MIFTAH and other institutions for various production projects. The visit was part of MIFTAH's Gender Equality and Women's Empowerment project implemented in partnership with and supported by UNFPA. Through this project, MIFTAH aims to promote the participation of women in the labour market.
The meeting began with a presentation from Jamalat Daoud and Dalal Morrar from the "Beit Al Karma Society" in Beit Dukko on the production projects they carry out. Their presentation explained the development of these production projects, which they said began as micro-projects where products were made at home and then marketed in the village. After this, they explained, the women organized and started working through the Karma Society. Their first order of business was to look for sources of funding. They were able to secure several funders who began financing their projects and training them on methods of healthy and proper manufacturing. They also provided them with the necessary equipment and tools to increase production such as ovens, refrigerators and containers. The women also said their training included ways of maximizing production through raising sheep and cattle and also by making silver and copper jewellery and modernizing traditional embroidery in tandem with the latest fashions. They also explained their marketing methods in the presentation.
Meanwhile, the women from Jenin listened to the presentation and showed their admiration for the achievements of the Beit Dukko women. The women's discussions focused on ways of securing funding, on the importance of establishing a cooperative in Beit Dukko and on the mechanisms for marketing their products. They also discussed future projects, whether production, agricultural or animal-based, and voiced their concerns, especially given that each woman works alone and has limited marking experience.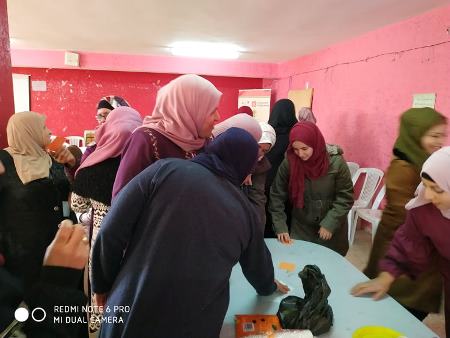 The two groups of women agreed to hold more meetings and exchange visits, saying they had a positive impact, especially on women who did not have previous experiences in micro-projects. They also said they hoped to receive training on ways to determine the needs of their communities, first, and then to identify the needs of surrounding communities to help market their products.
MIFTAH projects coordinator Hanan Said, said the exchange visit, in which 33 women participated, targeted women who had recently received economic grants aimed at improving their socioeconomic situation. In addition, she said, the visits offered an exchange of information and experience between women just beginning in project management from the two locations, especially since the Beit Dukko experience was such a success in terms of their diverse products and marketing methods.